Email marketing is considered by many to be the best customer acquisition tool available. It's cost-efficient, easy to implement, and can generate thousands of leads for a business. Email marketing revenue is expected to reach $8.49 billion USD in 2022, a clear indicator that highlights email's supremacy.
However, in order to create successful email campaigns and generate new leads, businesses need to be aware of the latest trends and strategies to achieve their goals. Getting your emails into potential customers' inboxes, increasing open rates, and getting engagement can be a challenge.
Luckily, there are some things you can do right now to improve your email campaigns. It's all about creativity, resourcefulness, and willingness to implement the best practices in your strategy while keeping an eye on the competition.
Here are the email marketing trends that will dominate in 2023:
1. Hyper-personalization and Segmentation
In today's market, audiences prefer companies that listen and respond to their individual needs. This is why hyper-personalization is a recurring trend that is here to stay. The objective of any email marketing campaign is to generate more revenue. Over the last couple of years, marketers have concluded that one of the best ways to do so is through the complete personalization of user experience.
The key is personalizing and segmenting your emails in a way that builds a close and trustful relationship with your audience. This has led to more things that need to be taken into account. Aside from age, sex, and geographical location, companies also analyze data such as past purchases or previous interactions with the brand.
Email open rates are greatly improved with hyper-personalization and segmentation, using clever and simple subject lines. About 88% of customers are more likely to respond favorably to emails that look as if they were specifically created for them. Well-crafted subject lines are then followed by a careful combination of text and interactive elements, such as:
Using the company's name;
Linking to the company's site;
Changing offer based on the recipient's company's needs;
Sharing some details on the recipient's company (analytics, results, etc.);
Asking the relevant questions according to the recipient's stage in a sales funnel;
Changing images according to the user's demographics or business needs;
Adjusting a call-to-action.
Segmented email campaigns have 50% higher CTR than non-targeted campaigns. The main factors for businesses segmenting and personalizing email marketing are improved open rate (82%), higher CTR (75%), and better customer satisfaction (58%).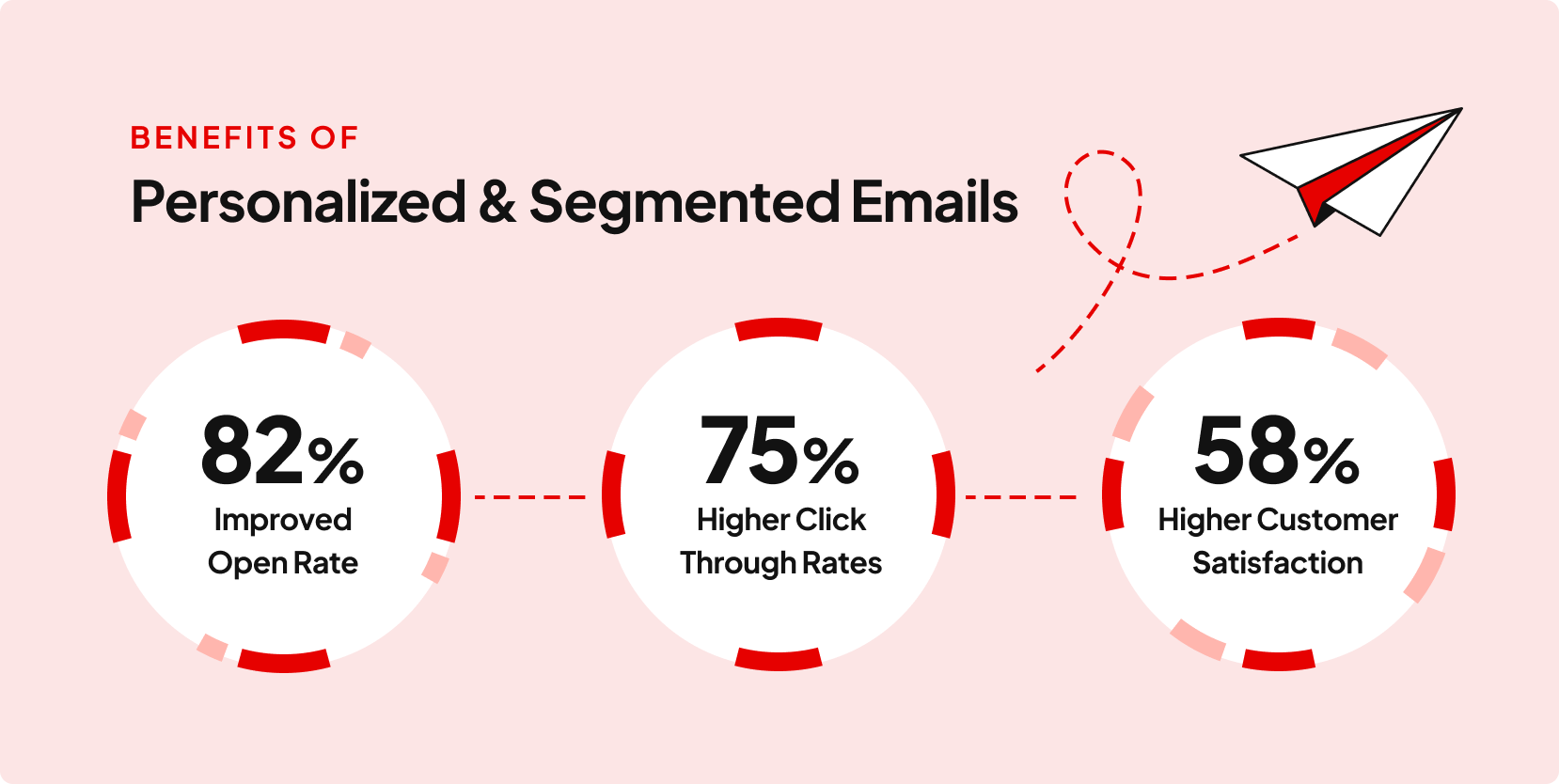 As a result, marketers who send segmented campaigns notice a 760% increase in revenue, while 58% of revenue is generated thanks to segmented and personalized emails.
Not putting effort into hyper-personalization and segmentation can severely impact the outcome of your email marketing campaigns. Most of your audience will mostly take at least one of the following actions:
68% will automatically delete emails;
54% will unsubscribe from emails;
45% will categorize emails as junk or spam;
29% will become less willing to buy products;
13% will visit the website less frequently;
10% will never visit the website again.
In short, study your audience and send relevant emails to every recipient. Take enough time to implement segmentation and hyper-personalization in your email strategy to better connect with your target audience and increase the open and click-through rates of your emails.
2. Predictive Analytics
Marketers are starting to realize that making data-driven decisions using predictive analytics can have an enormous influence on customer engagement and overall sales rate. This technique not only improves the segmentation and hyper-personalization strategy we discussed above, but it also offers you a better understanding of your customer's likes and dislikes and determines the potential open and click-through rates of your emails.
Predictive analytics operate on predictive modeling techniques for analyzing data, such as:

Marketing Spend Analysis: It examines how existing customers are acquired and engaged and then forms the most successful acquisition and retention strategies for the future;

Collaborative Filtering: It analyzes customers' profiles and buying patterns to recommend products and services they would be interested in purchasing.

Clustering Algorithms: It analyzes customers' profiles and buying patterns to recommend products and services they would be interested in purchasing.
Applying these techniques to your email marketing campaigns will bring many benefits. For example, it can help you offer your customers a better experience via personalized content, keep your subscribers active and engaged and, equally important, helps you recognize the customers and their interests.
Predictive analytics is the new future that will help you keep your audience engaged and satisfied. More and more marketers are committed to implementing predictive analytics into their email marketing strategies, since:
82% agree that predictive marketing will be essential to stay on edge
81% are planning to increase the usage of predictive analytics to drive email marketing decisions
78% say that all marketing approaches will soon become predictive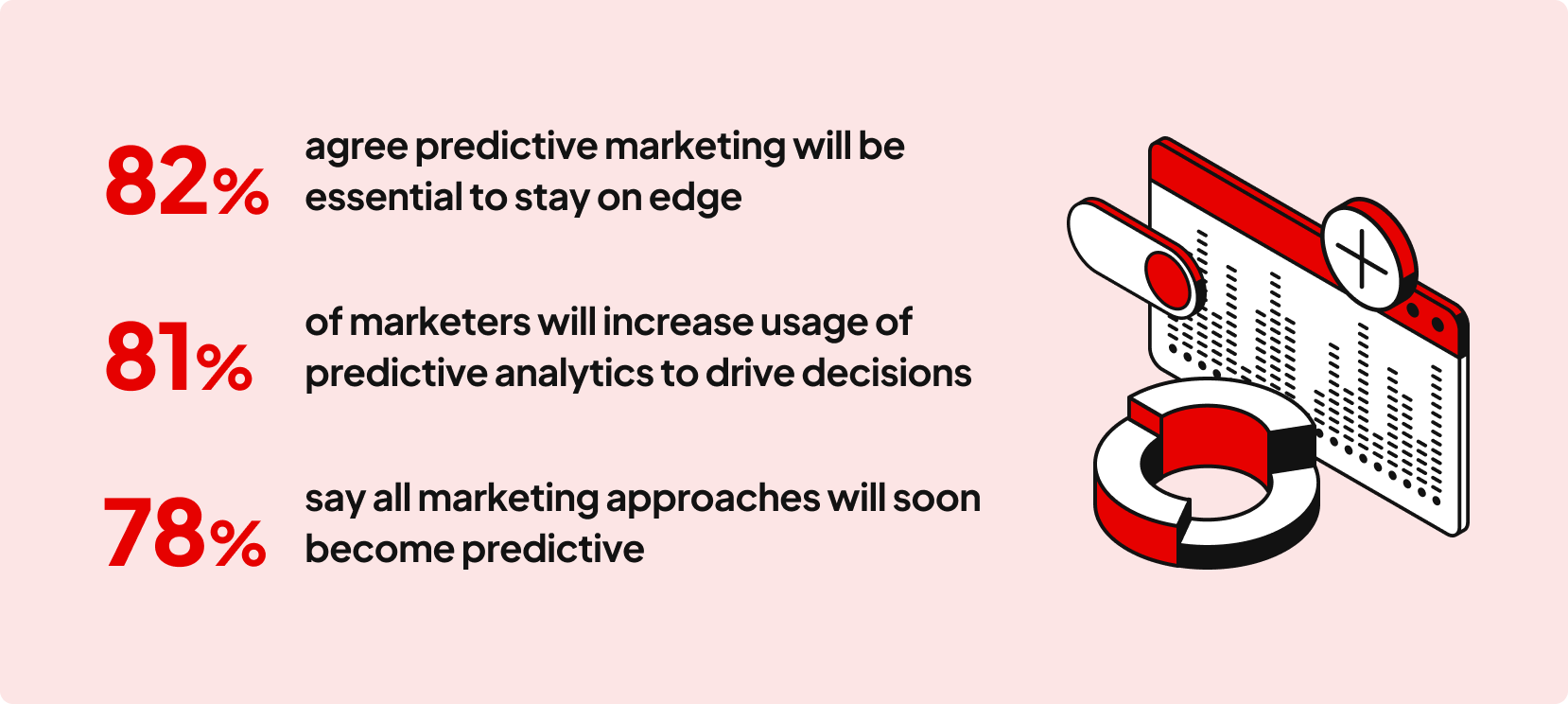 Adding predictive analytics to your strategy can be quite easy with the help of specific tools or software, such as Improvado, Looker, and Marketing Evolution (MEVO). Most of them are based on a form of data-mining technology that works by analyzing historical and current data and generating a model to help predict future outcomes. Many such platforms are easy to use and implement, giving you significant leverage in your email marketing campaigns.
3. AI-based Marketing Tools
Hyper-personalization, predictive analytics, and AI often go hand in hand. AI-based email marketing services allow companies to automate the email delivery process in a highly efficient manner.
AI tools work to provide a wide array of helpful insights and aid in boosting the success of email marketing campaigns. Generally speaking, many marketers use AI email marketing tools because they allow them to:
Personalize subject lines and email content based on the individual subscriber behavior
Analyze users' data and engagement rate based on previous conversations
Generate the relevant content for every recipient
Generate auto-replies and trigger emails based on the user's response
Obtain deep analytics and process large data to create better messages
Create highly-personalized newsletters
The goal of using artificial intelligence in your email marketing campaigns can be summarized in two core aspects:
Increasing revenue – AI helps you send better emails, which increases open and click rates, brings favorable ROI, and produces better results from time spent on email marketing campaigns.
Decreasing costs – AI-based tools bring more efficiency and speed in creating winning campaigns. It's about streamlining the whole process behind email marketing. Work smarter, not harder!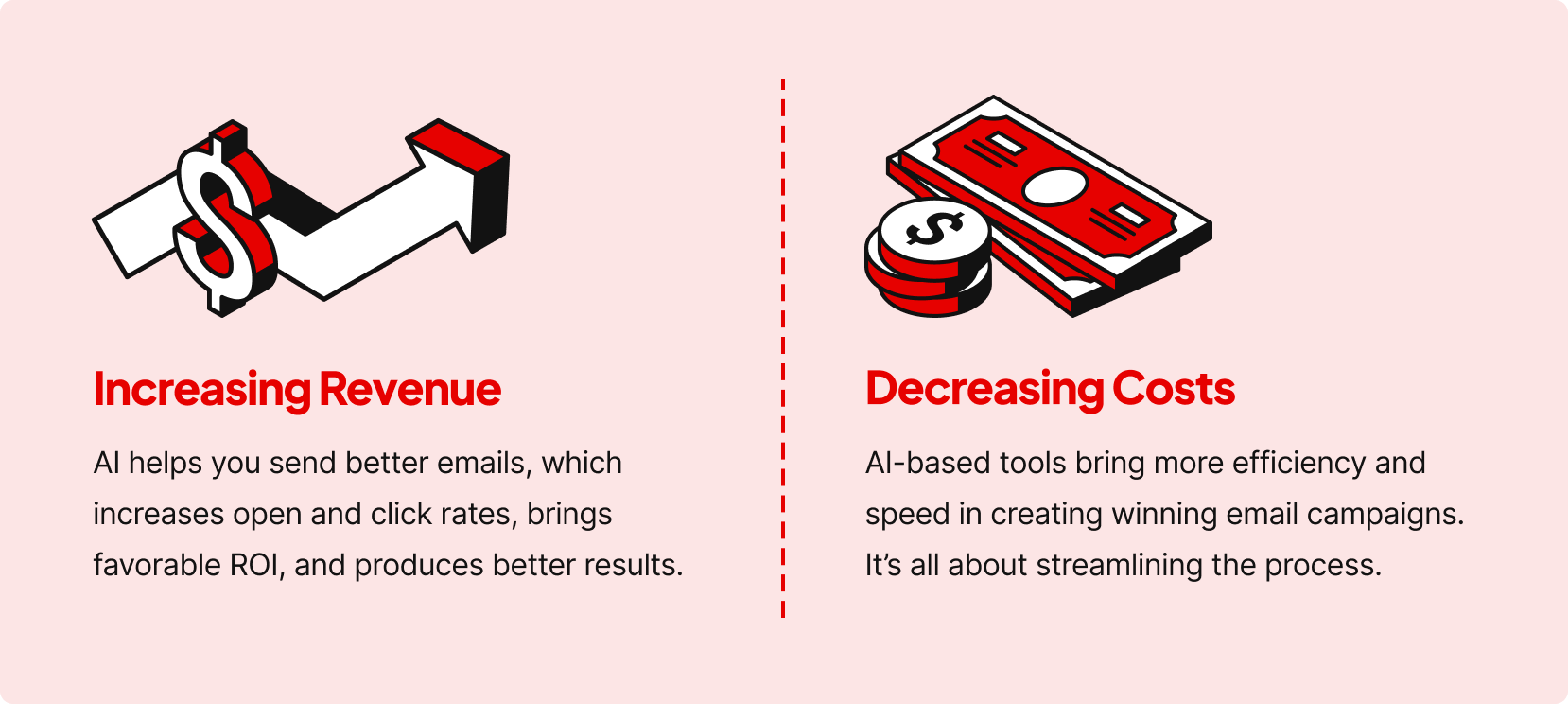 The AI industry is huge! As of 2022, the global AI market is valued at over $136 billion. And since 87% of global organizations believe that AI technologies will give them a competitive edge, it's quite safe to say that artificial intelligence will take email marketing to a whole new level. For context, just take a look at these facts:
The average order value (AOV) for senders using AI was $145.08, compared to $138.00 for those not using AI. Email marketing revenue was up 41% in organizations using AI.
Marketers who use AI generate more revenue per subscriber. AI users generate their results from 35 million emails sent per month, compared to 36 million that are sent without AI solutions.
With the use of AI, email marketers are reporting better subscriber engagement. Open and click-through rates averaged about two points higher with AI senders as opposed to those who rely on humans exclusively.
Solutions that leverage AI can lead to improved deliverability. Mailbox providers frequently use engagement signals to filter spam and survey results indicate AI senders have a higher delivery rate than human-curated senders.
4. Email Marketing Automation
Your email marketing strategy isn't complete without implementing automation techniques. This will save you time when it comes to communicating relevant information to your subscribers at the right time, based on their actions and interests.
Email marketing automation is an email or a sequence of emails that are automatically sent after a subscriber takes a specific action like signing up to an email list, making a purchase, or clicking a link. For example, if you subscribe to a company's newsletter, you will automatically receive a welcome email.
Among welcome emails, you can also implement automation techniques for newsletter and blog updates, anniversaries or events and webinars. Email marketing automation is also closely related to other important trends, such as:
Personalization based on funnel stage, or building brand awareness
Lifecycle marketing – attracting and keeping their customers by analyzing their buying patterns from the earliest stages
Retargeting without using third-party cookies to track visitor behavior
As 2022 unfolds, email marketing automation is becoming more and more relevant. Many B2B marketers who make use of automation software see on average a 20% increase in new sales opportunities.
The benefits of email marketing automation cannot be overlooked, as it helps marketers achieve much more favorable results:
Increasing time-saving by 30%;
Increasing lead generation by 22%;
Increasing customer retention by 11%;
Increasing the efficiency of tracking/monitoring campaigns by 8%.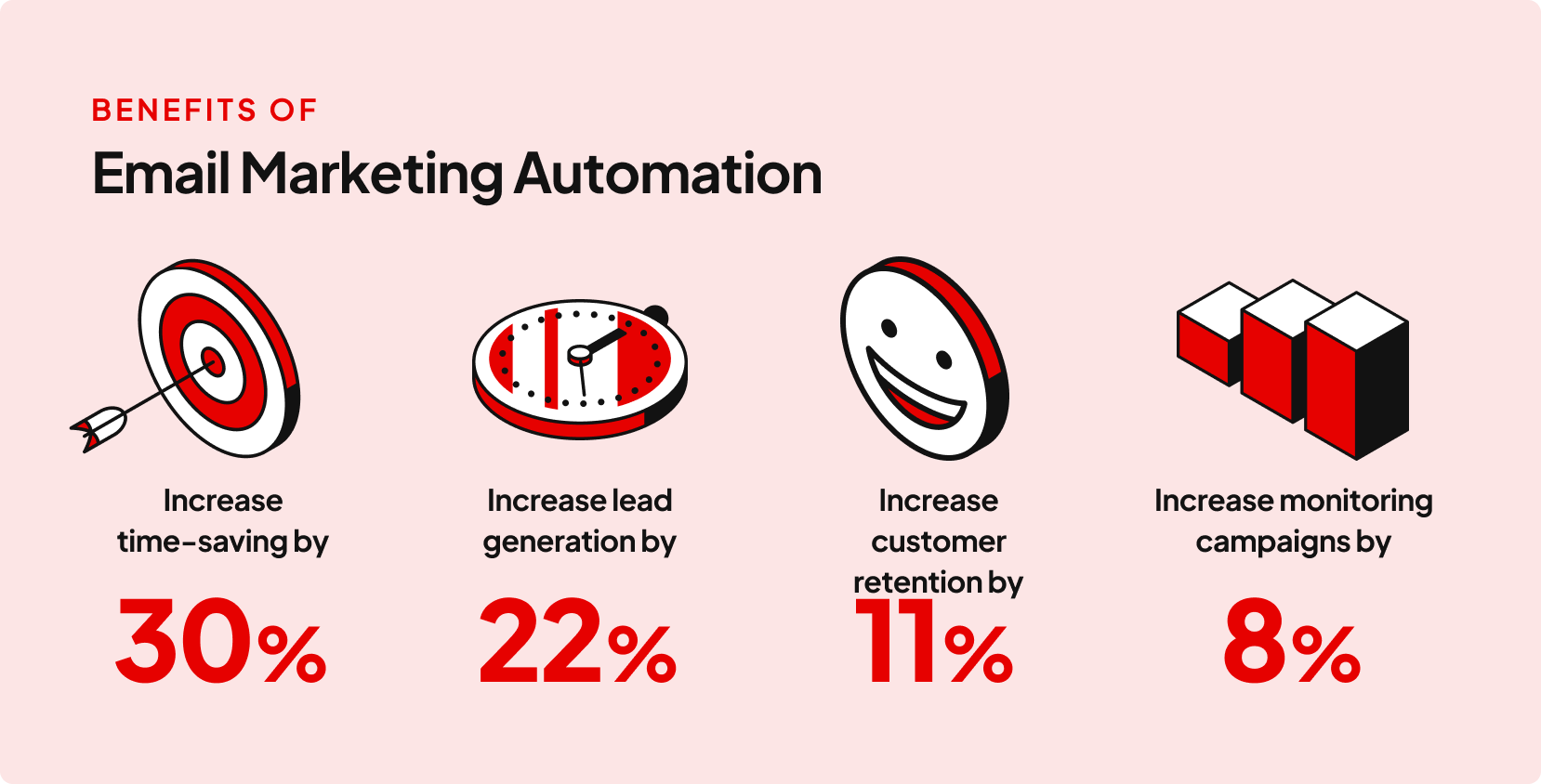 5. Interactive Emails
In 2023, interactive and engaging content will be one of the most useful and creative ways to attract and keep subscribers. This is why interactive emails should be a priority for every marketer. An interactive email can be anything from an illustration, a GIF, a product showcase, a quiz, or a countdown timer that's supposed to catch the attention of your subscribers.
Recent studies have shown that, while 91% of consumers want interactive content, only 17% of marketers are preoccupied with sending such interactive emails. So, now it's the perfect time to act and make your email marketing campaign successful. Before listing the top benefits of implementing interactive elements into your emails, let's see the perfect occasions for getting creative and smart with your emails:

Highlight new product features;

Tease an upcoming event or an important announcement;

Better connect your audience and give them something engaging that will repay your efforts.
Interactive elements are a great way to make your emails pop and grab the attention of your subscribers. Here are some benefits you may see by implementing this trend:
Increased user engagement
Better conversion rates (as an example, using lifestyle GIFs can increase conversions by as much as 10%)
Increased click rates (videos, as well as other visual elements added in business emails, can lead to a 300% growth in click rates)
Better lead generation results
Get more relevant customer feedback

6. User-generated Content
User-generated content (UGC) is a great way to promote your product or service and keep a strong relationship with your audience. To begin with, customers who view user-generated content in emails have a conversion rate of 5.6%, compared to just 2.1% for customers who did not see user-generated content.
User-generated content can be anything from consumer images and videos to posts, reviews and testimonials. Marketers have begun adding UGC to give context to potential new customers, increase brand awareness, and boost engagement. The benefits of implementing user-generated content are huge:


Trustworthy: It has been shown that people trust other consumers more than they trust brands. And when it comes to making purchase decisions, 97% of people will turn to other consumers to determine whether a product or service is worth the investment.

Cost-effective: As consumers create the content, all you have to do is find the best UGC and include the content in your email marketing campaigns. This saves you precious resources that you can invest in other fields.

Improved ROI: If you implement user-generated content in your emails, you can increase conversions by 29%. Not only that but featuring authentic photos from genuine followers will build trust with your email list.

Scalability: Consistently creating relevant and personalized content is a tough job, even for the most skilled marketers. 60% of marketers say that this is their biggest content marketing challenge. It appears that user-generated content tackles this challenge. How? Well, since consumers themselves are impactful content creators, UGC becomes a self-refilling source of authentic and trusted content.
By using user-generated content, marketers can show recipients that their products and services are quality. The result is that your audience will trust the brand more, which will translate into more sales.
7. Sunsetting Policies
Sunset policies exist to improve email marketing and increase deliverability. When you choose to implement a sunsetting strategy, you identify inactive subscribers who have not engaged for quite a while with your emails and build a strategy that would re-engage them.
Marketers are realizing that one key to efficient deliverability is focusing on recipients who genuinely want to receive your emails. Sunsetting is quite different from actually cleaning your mailing list because you do not delete your inactive subscribers.
What you are doing instead is separating active recipients from inactive recipients. In doing so, you can continue sending relevant emails to your engaged subscribers, while designing the most effective plan for re-engaging inactive subscribers. A recurrent practice that aims to reach out to inactive subscribers is sending them an email with the intention of checking whether they are still interested in your product or service.
Building custom lists based on the last purchase, last engagement date, or last open rate, for example, can lead to more successful email marketing campaigns. It has been shown that email sunsetting brings several advantages, such as:

Helping you keep an active email list with users who are interested in your emails;
Improving your email deliverability;
Getting improved open rates, click rates and overall engagement for your campaigns;
Helping you send more targeted and relevant messages to your users;
Maintaining your reputation by sending messages to only those who want to hear from you;
Helping you save precious resources, as keeping inactive users without a plan to re-engage them still costs you space in your email marketing platform or your customer relationship management tool.
8. Adapting to Privacy Data Changes
2023 is expected to be even more focused on privacy and transparency. Take for example iOS and macOS users. The recent versions of the popular operating system now offer the Mail Privacy Protection option, which prevents marketers from analyzing the open rates of their emails.
This might sound like a big deal. Or not, because marketers are starting to adapt to data privacy changes introduced by more and more companies:
47% of email marketers say the impact of data privacy changes was neutral on their email marketing strategy
29% said the changes had a negative impact
But interestingly enough, 24% said the contrary, claiming data privacy changes had a positive impact on their marketing strategy
There seems to be an opportunity even in reduced visibility into email analytics. As a result, email marketers began finding creative ways to reach their target audience and measure the impact of their marketing efforts. Therefore, it's time to prioritize different KPIs (according to 62% of impacted email marketers):


Clicks, click rate, and click-through rate: These can tell marketers how engaging their email content is and helps them come up with the optimal strategy.

Unsubscribe and spam rates: Two more useful indicators that can help marketers come up with relevant and engaging content. A spike in unsubscribe and/or spam rates mean something is wrong, just as super low unsubscribe and/or spam rates means things are working well.

Surveys of feedback forms: Surveys, polls, or seeking feedback from your customers can also be a great way to understand their interests and what they want to see more or less of in the future.
KPIs are not the only things that marketers need to tweak if they want better analytics in this context. Many of them are thinking about relying on extra strategies like:

Gaining user data from other sources: 52% of impacted email marketers are already implementing this plan. One of easiest and still effective ways is analyzing email data coming from non-Apple users, which can still give you a clear idea of an email's open rate, among other metrics.

Expanding on messaging channels: 37% of impacted email marketers started leveraging channels other than email marketing, like SMS. And because almost 4 billion people have their phones around them nearly 24/7, and 48 million chose to receive marketing messages over text, that's quite something.

Better email deliverability: 28% of email marketers responded to privacy changes by focusing on improving email deliverability. This implies keeping a healthy email list, providing easy unsubscribe options, personalizing emails, using engaging subject lines and preview text, and making sure your emails and mailing list are GDPR compliant.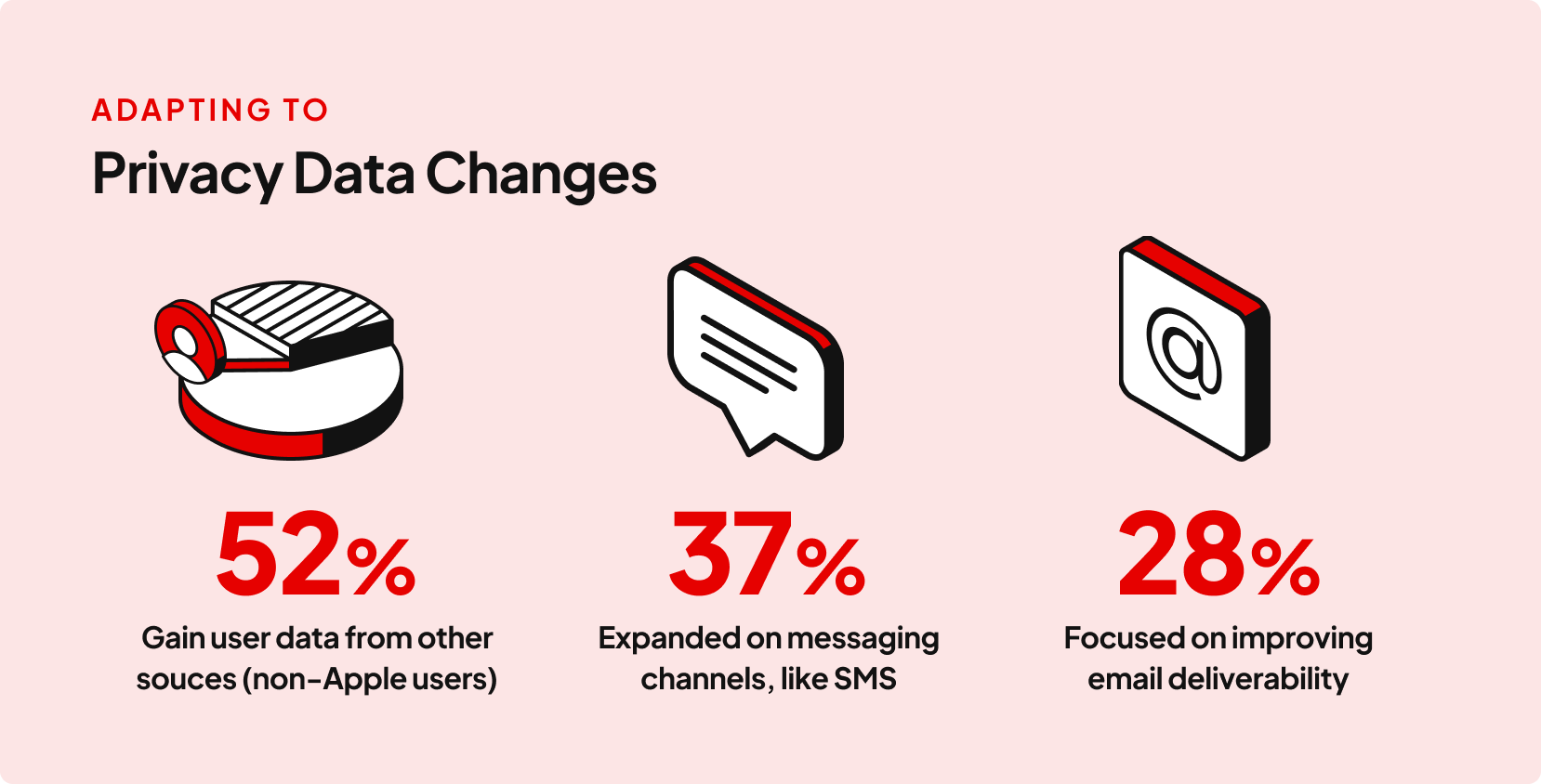 9. Sending Newsletters
Success at email marketing depends on your ability to build and nurture an email list of engaged subscribers. One of the best ways to achieve that goal is to send regular email newsletters to your subscribers.
The purpose of newsletters is to inform your audience of the latest news, tips, or updates relating to your products or services. For many email marketers, newsletters are among the most effective ways of retaining subscribers and keeping them constantly engaged. Newsletters offer this advantage because they serve valuable content and important information straight to your recipients' inboxes.
Newsletters can encourage your audience to:
Read your latest blog post
Sign up for an upcoming event
Check out a new case study
Take part in a prize draw or giveaway
In simpler words, the more your audience trusts that you understand their needs, the more engagement and leads you will get. Statistically speaking, 31% of B2B marketers say that sending email newsletters is the best way to nurture leads, while 49% of consumers are happy to receive promotional emails from the brands they love every week. This means that more and more email marketers choose to send newsletters that contain:
Weekly content digests;
In-depth guides or eBooks;
Recent interviews with industry experts;
Case studies and testimonials;
News about upcoming sales, promotions, and deals.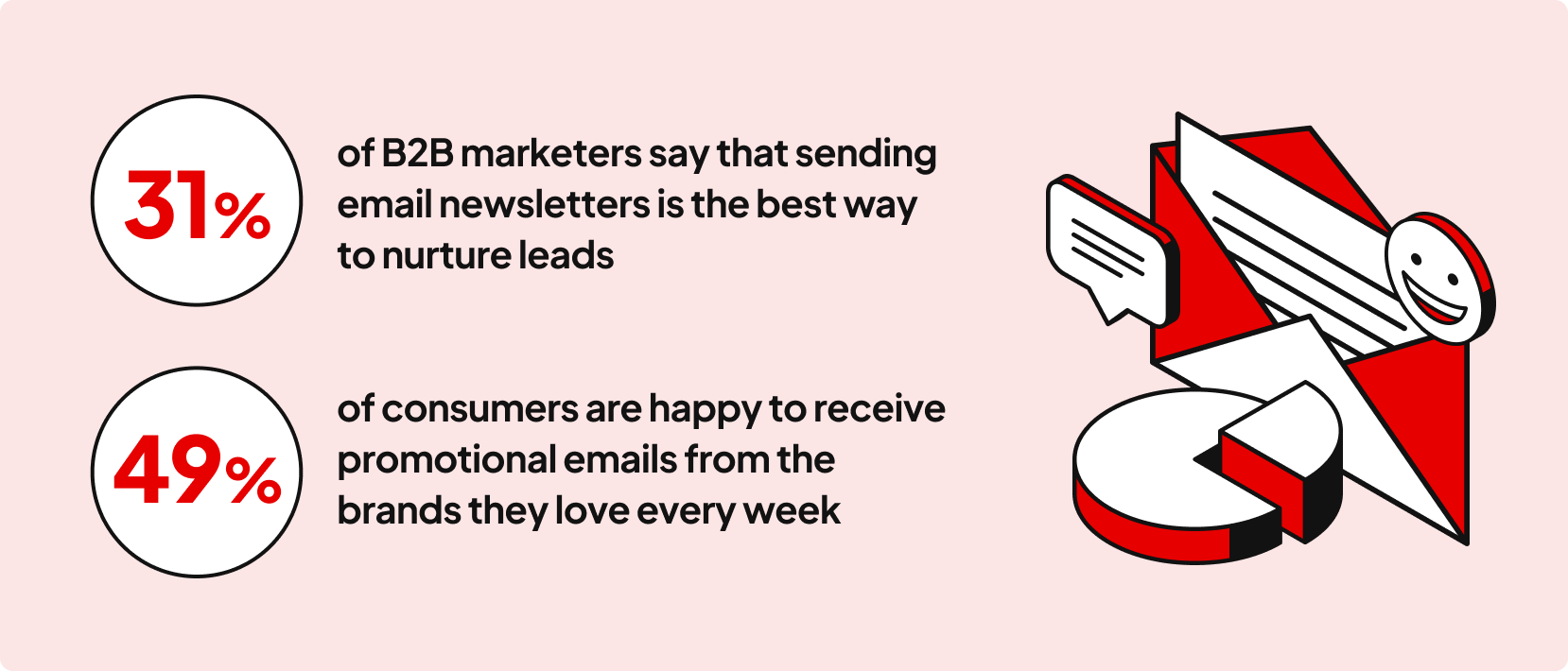 10. Omnichannel Strategies
Nowadays, customers want a seamless experience across multiple platforms. Omnichannel strategy is a key component of every successful marketing campaign. The purpose of this concept is to put the customer and not the brand at the center and offer a personalized and seamless experience for them, no matter where they are in the customer journey.
Customers often bounce between different channels when they want to purchase something or use a service, so marketers should consider creating a consistent experience rather than simply targeting their subscribers through many different channels.
Through an omnichannel marketing approach, marketers can maintain constant interaction with their audience, thus adapting to their behavior and needs, which is especially critical at the moment they are ready to take action.
Customer experience is a vital factor in determining long-term engagement, so an omnichannel approach is an ideal way to establish a long-lasting relationship with your customers. To add to that, there are a couple of interesting statistics that show how impactful omnichannel strategy is:
Omnichannel campaigns in which marketers used three or more channels earned 18.9% engagement, compared to single-channel campaigns who only received 5.4%
The purchase rate of omnichannel campaigns is 287% higher than the purchase rate of single-channel campaigns, indicating that omnichannel campaigns yield more revenue for businesses
Additionally, customers spent on average 13% more when they engaged with campaigns having three or more channels than those who engaged with single-channel campaigns
Subscribers show more loyalty to brands engaging with them across channels. Specifically, customer retention rates for omnichannel campaigns are 90% higher than for single-channel campaigns.
80% of consumers state they are more likely to purchase from a company if it offers personalized experiences. Lack of personalization in consumer experiences means lost revenue for a business.
An impressive 85% of digital consumers start the purchasing workflow on one device but finish it on another. This indicates that omnichannel consumers are a thing of the present.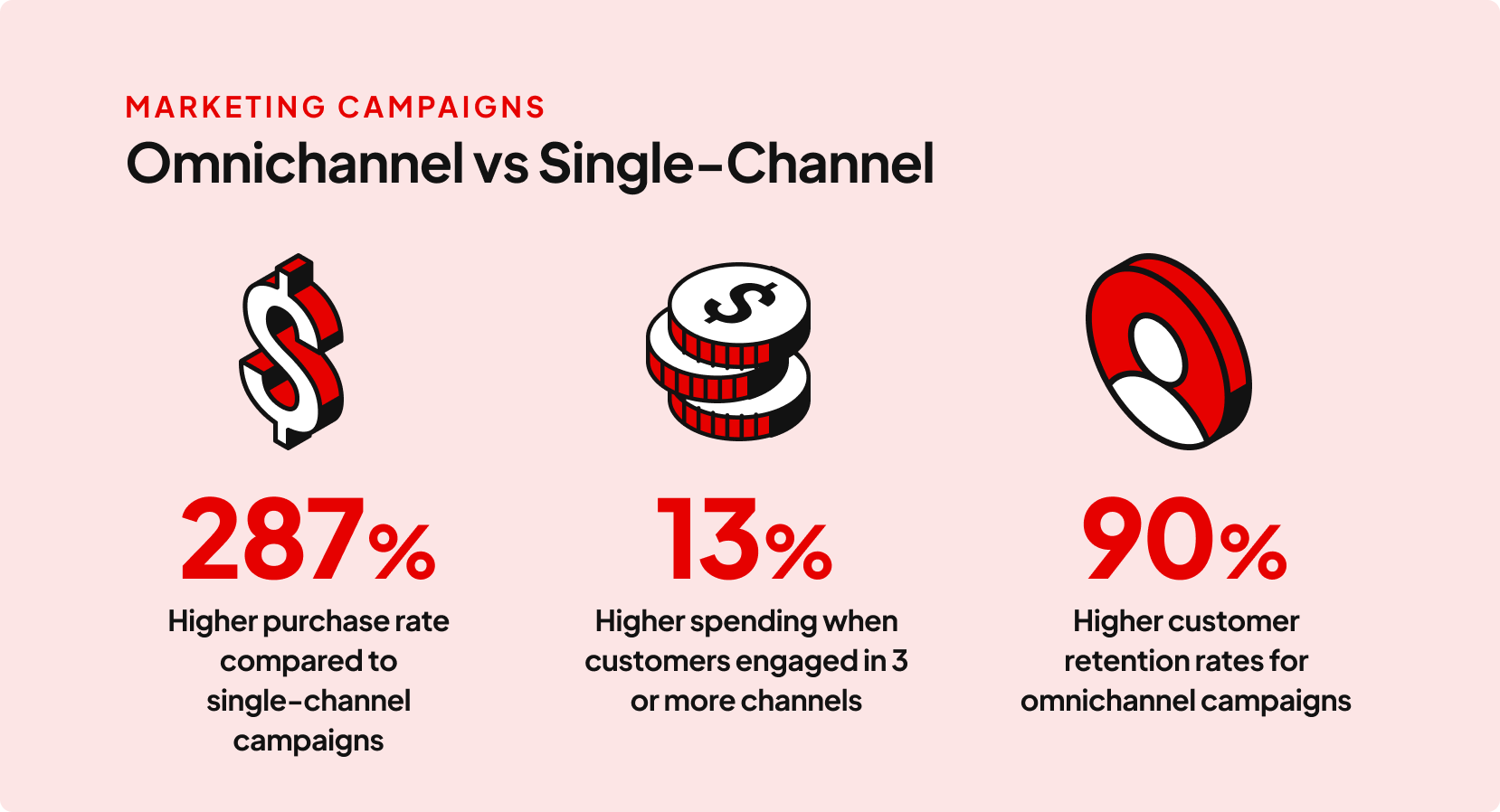 11. Mobile Optimization
Remember those 4 billion people constantly checking their phones? Well, mobile devices account for 41.9% of all opened emails. On top of that, 60% of email campaigns are read on mobile, 29% on webmail and only 10% on desktops. It's interesting to note that:

58% of people check their inbox first thing in the morning;
7 out of 10 users delete emails that don't display correctly on mobile;
Click rates grow by 30% with responsive email design optimized for mobile devices.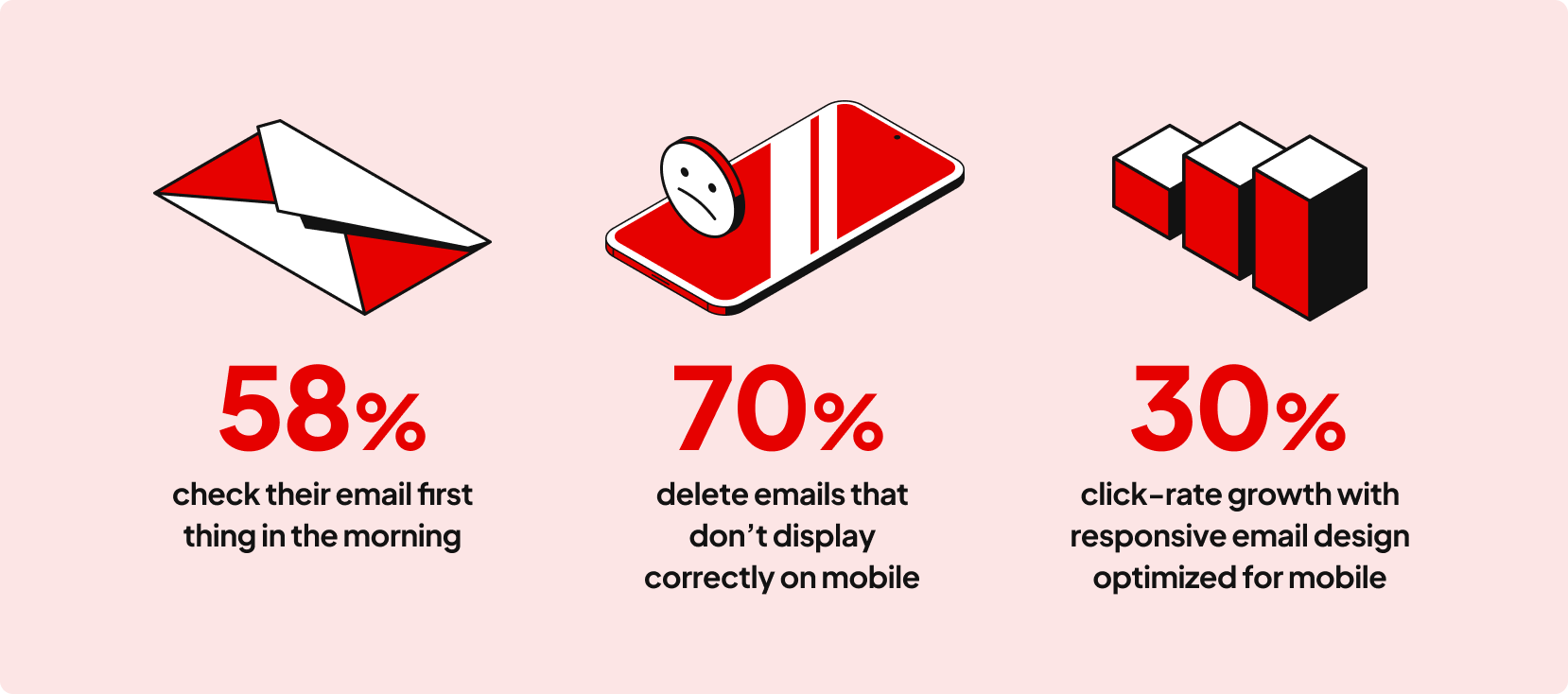 Therefore, mobile-optimized emails are starting to be the main focus of all email marketers, as 73% of companies optimize their emails for mobile regularly. They want to make sure their emails are perfectly optimized for mobile, to keep their audience engaged. This means not only adjusting the size of text and images, but also implies a careful structuring of the email subject line.
Nearly half of your mobile readers spend three seconds or less with your emails, and if you don't pay attention to that, you might soon notice higher unsubscribe and/or spam rates. If the content is not made to perfectly fit mobile screens, you put your email marketing campaign in jeopardy. For example, just take a look at how important it is to keep the text nice, short and simple.
Open rate by the number of words in the subject line:
6-10 words: 21%;
0-5 words: 16%;
11-15 words: 14%;
16-20 words: 12%.
This has led to many businesses, more specifically 82%, paying extreme attention to the subject line, limiting it to only 60 characters.
Often, those 60 characters are narrowed down to 30 characters. This might sound tedious, but keep in mind that the iPhone's email app, for example, only shows the first 30 characters of the subject line.
In addition, marketers are also focused on making social media icons and CTA buttons finger-friendly. And yes, orientation does matter. Be it landscape or portrait, optimizing the email accordingly will positively affect your campaign. Striking the perfect balance between concise and interesting sentences and properly sized images and text is not an easy job, but checking emails on your phone is here to stay, so make sure to adapt to modern standards.
12. Email Deliverability
Another important aspect when it comes to email marketing. Your initiatives will only be successful if your emails get in the recipients' inboxes. And that's precisely what email deliverability means.
Email deliverability is highly influenced by many factors, both in terms of business practices and technical aspects. Marketers are paying more and more attention to maintaining a good deliverability rate, which means taking into account everything from sender score and spam rate to IP address, domain reputation, and even how many emails you send and how often.
According to Dataprot, almost 85% of all emails are spam. This translates as an average daily volume of 122 billion messages worldwide.
Maintaining a good deliverability rate will bring important benefits, such as:
Increased open rate;
Better ROI;
Increased lead generation;
Improved relationship with mailbox providers.
These can be achieved by implementing several useful techniques and practices. For example, here are five important practices that really increase your deliverability rate:
Segmenting and warming up your IP addresses;
Acting on every unsubscribe request;
Keeping a balance between email sending volume and sending frequency;
Maintaining a clean and organically-built mailing list;
Using email validation platforms like ZeroBounce.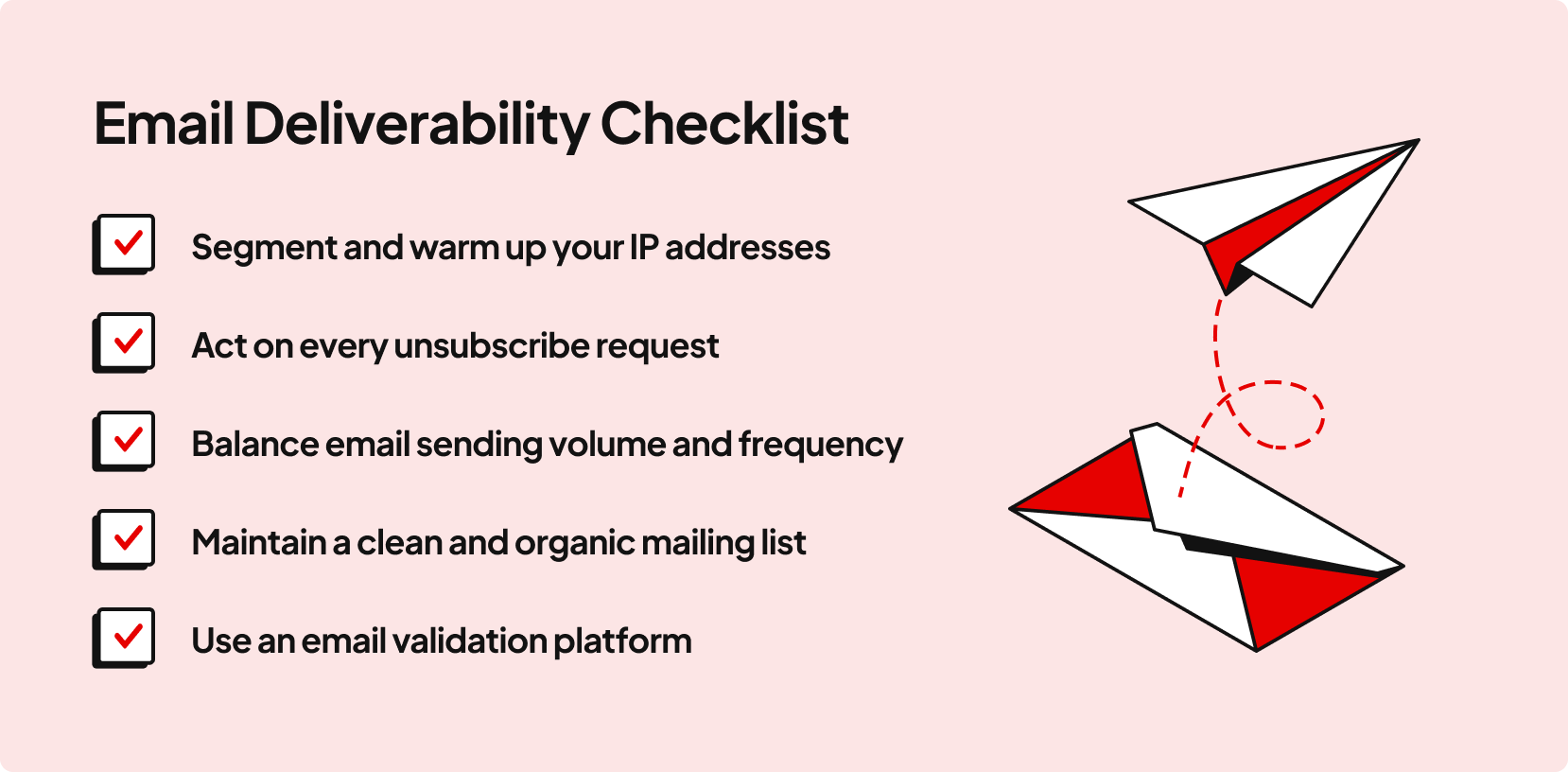 Creativity, relevance and consistency are the future
With these 12 aspects in mind, you should be ready to take email marketing in 2023 to a whole new level. The key is to carefully study your audience, their needs and their feedback, and act accordingly. A successful email marketing strategy will benefit more from a coherent message and eye-catching email.
So make sure you properly curate your mailing list while producing relevant and interactive content for your audience. Take these, add useful automation tools to the mix, don't forget about mobile optimization and you will boost engagement and click-through rates in no time!